Thirteen-Year-Old Racer Jesse Love Wins Second Straight Jr Late Model Championship
PRESS RELEASE
UPDATED: OCT 19, 2018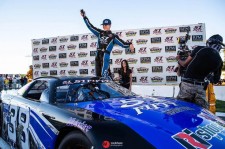 MENLO PARK, Calif., October 19, 2018 (Newswire.com) - 13-year-old racing phenom Jesse Love of Menlo Park, California has won his second straight 51Fifty Junior Late Model track championship at Madera Speedway in Madera, California.
Love finished in the top three seven times in nine races, including four wins to capture the championship. He has also competed in three races in the Pro Late Model division and recently finished third in the RPM Mortgage $10,000 Short Track Shootout race at Madera Speedway against some of the top Late Model drivers on the west coast.
"This year really put the icing on the cake for the team and for me," the articulate youngster smiled. "I'm grateful that the Lord above put me with such an amazing team. We've had a blast running the Jr. Late Models and we've been fortunate to win nine times and earn two championships during the two years we ran in the series. I can't wait to run more races with the Naake-Klauer Motorsports next year. I have faith we can win many more races together. I cannot thank the team enough for putting so much work into these races for me and for giving me a winning race car every weekend."
Last year's championship made him the youngest stock car series champion in the nation at age 12. In 2018 at age 13, he became the youngest racer in U.S. History to win a full-size midget feature race. He is not unaware of his unusually rapid progression, but he tries not to focus on it, instead choosing to focus on how fortunate he is to have the opportunities he's been given, and on the work that it takes to succeed.
"I don't feel like I'm any different from any other young racer when I'm on the track," he explained. "I have to drive to the best of my ability to have a chance to win, and I know how lucky I am to be able to have the equipment and opportunities that I have. A lot of people, from my family to my team to all of those who support me put in a lot of time and effort to help me be successful, so when we do win I'm happy for them because I know it isn't just something I did well. We did that together. Being the youngest to win a midget race or winning two Jr. Late model championships in a row is awesome, but it isn't just about me. The team worked hard to put a car on the track that allowed me to get that win. I just keep working hard every day to make myself better and when something good happens, I always remind myself that I didn't do that alone. It's a team sport."
Jesse will be at Las Vegas Motor Speedway on the road course this weekend competing in the US Legend Cars International Road Race Championships against the toughest racers from across the world in this division. He is excited about the opportunity.
"One of the things I'm most thankful for is that I get to race a lot of different types of cars and tracks," Love said. "I love a good challenge, and this presents a good challenge because I don't do a lot of road course racing. It takes a different approach to be successful in that and a lot of these drivers do it all the time, so I will need to be focused and sharp. I'm excited to get on the track, have fun and do my best to bring home a win!"
ABOUT JESSE LOVE
Jesse Love is a Toyota Racing Development driver and receives primary sponsorship from 51Fifty Energy Drink. Love works with Race Face Brand Development and Rainer Racing Development. You can learn more about Jesse Love by visiting his website at www.jesseloveracing.com. Follow him on Facebook, Twitter, and Instagram by searching @JesseLoveRacing.
Follow Jesse:
Website: https://jesseloveracing.com
Facebook: https://www.facebook.com/JesseLoveRacing
Twitter: https://twitter.com/jesseloveracing
Instagram: https://www.instagram.com/jesselovejr
Media/Sponsorship Contact: Rod Wortham – Race Face Brand Development
Email: Rod@racefacebd.com • Ph: (727) 999-2628