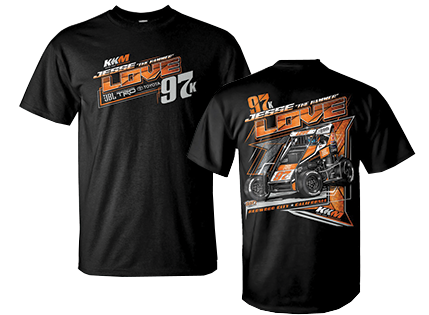 All New Jesse Love "Hammer Down" T-Shirt Now Available!
Click here to order this shirt.
For all other Jesse Love Merchandise click on the STORE link above.
To all the fans, supporters, and sponsors: 
"Thank you for all you have done.
We are just getting started!"  
Over the last six years, Jesse has assembled a huge fan base and he is deeply appreciative of their support."My Fans are amazing"Jesse has said. "they are really supportive and that makes me want to go out there and win it for them!"

Make sure to check out Jesse's schedule, and if you are in the area, we invite you to come on down to the track and become a "Hammer Fan!" 
TV Coverage
Check out MAVTV for the 51 Fifty Energy Drink Jr. Late Model Series from Madera, CA. Click Here for Schedule.
Get Connected
Connect with Jesse at the following Social Media Platforms. Make sure to Like our Page and Share with your racing friends.

Autographed Hero Cards
We have a free autographed Hero Card just waiting for you!  Simply fill out the form below and Jesse will send it to you as fast as he drives!