Jesse Love Racing Announces New Sponsorship With K&N Filters
PRESS RELEASE
UPDATED: JAN 16, 2018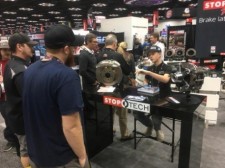 New Port Richey, FL, January 16, 2018 (Newswire.com) – Jesse Love Racing and Love Motorsports have announced a sponsorship arrangement with the established and venerable racing icon, K&N Filters.
The first week of December 2017 held a busy week for many racing enthusiasts, drivers, and companies during the Performance Racing Industry ("PRI") trade show in Indianapolis, IN. Among the attendees were K&N Filters of Riverside, CA and Jesse Love of Love Motorsports, Inc. and Jesse Love Racing from Redwood City, CA.
K&N Filters were in attendance with a large display, meeting with racing enthusiasts, discussing products, distributing samples, and continuing the legacy of the formidable and established company. Jesse Love was in attendance for multiple autograph-signing sessions for companies, including JRI Shocks and StopTech brakes.
Although you may have stopped by the K&N booth or grabbed an autograph from 12 year stock car and USAC Midget driver sensation Jesse Love, you probably didn't see the meeting between Love and K&N that took place at the PRI show. Love and K&N met to discuss a sponsorship arrangement for Love's impacted 2018 racing schedule which includes stock cars, midgets, and sprint cars. The meeting ended with a sponsorship arrangement between K&N and Love.
"I am very excited to be driving with the support of K&N," said Love. "They are such a fantastic company with a great brand, and it will be an honor to promote K&N throughout the 2018 season."
"We see Jesse Love as a distinguished up and coming talent in both late model stock cars and USAC Midgets," said Kirk Swanson of K&N Filters. "We have watched Jesse's championship seasons for the last two years in USAC and wanted to show our support. We have also been impressed with the way Jesse carries himself and conducts his interviews. We believe that he will do a great job promoting K&N."
Make sure to keep up to date on Jesse Love's racing career at www.jesseloveracing.com, and follow him on Facebook at www.facebook.com/jesseloveracing and Twitter at www.twitter.com/jesseloveracing
Career Highlights:
2011 – Baylands Rookie of the Year;
2012 – Baylands Most Improved Driver: Junior Honda;
2013 – Good Times, Club Championships: Junior Honda, Junior Stock, Lt. 160; Winter  Nationals Winner: Junior Stock; California Regional Championship: Junior Stock;
2014 – Good Times, Club Championship: Mod; California Monza Championship: Sr.          Stock,  Mod., Sr. B; Over 100+ Main Event Wins in QMA over 3 seasons
2015 – USAC HPD Western Overall Champion; USAC HPD Western Overall Rookie of the Year
2016 – INEX Bandolero: Rookie of the Year; INEX Bandolero Series: 8 wins; USAC HPD Western Overall Champion; USAC HPD Western Dirt Champion
2017 – USAC Western HPD Dirt, Pavement and Overall Midget Champion; 51 FIFTY Energy Drink Jr. Late Model MavTV Series Champion
Media/Sponsorship Contact:  Rod Wortham – Race Face Brand Development
Email: Rod@racefacebd.com
Ph: (727) 999-2628