Jesse Love Extends Winning Streak In 51FIFTY JR LM At Madera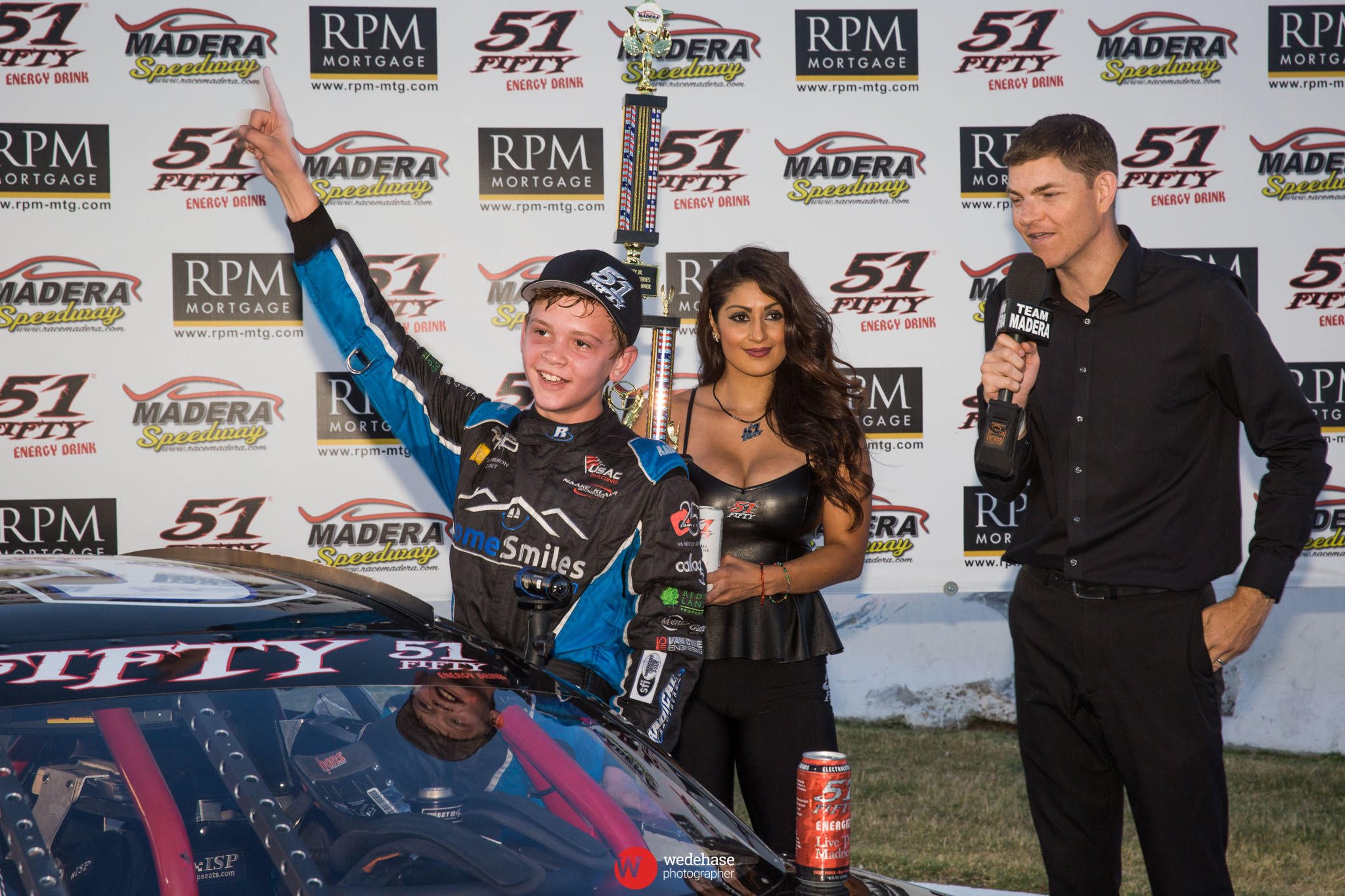 MADERA, CALIFORNIA (May 27, 2017) – 12 year-old rookie Jesse Love IV of Menlo Park continued his incredible start to his Madera Speedway Jr. Late Model career, taking Saturday night's 75 lap 51FIFTY Energy Drink feature as part of Military Tribute Night. Love's third win highlighted a busy night that included Logan Zampa getting his first career RPM Mortgage Pro Late Model win, Tyler Reif taking the Mini Cup feature, and Mike Marley grabbing the Toyota Sedans.
Both round threes of the Late Model divisions on the one-third mile were televised for later broadcast on MAVTV.
The 20 car Jr. Late Model field struggled to get the race underway as Watsonville's Lilly Mead stalled on the initial attempt at a start with fuel pump issues. On the following attempt, pole sitter Kyle Keller of Las Vegas spun in turn four and Mentone's Austin Edwards spun in turn two as well.
12 year-old Zachary Telford of Middleton, ID assumed the lead position for a single file restart with Love restarting in second.
Fast-time qualifier Kolby Berry of Redwood Valley restarted third but faced pressure from 2016 season runner-up Austin Herzog. RJ Smothermon of Las Vegas spun in turn one for the next caution on lap five. Herzog cleared Berry for third before that caution flag flew.
Telford slid up the hill coming off of turn four before concluding lap 11 and tagged the wall. He fell back to third with Love assuming the lead. Jaden Rocha spun in turn four to bring out another caution on lap 13. This caution fell as Jarrett Gilmer began peeking inside Hailie Deegan for fifth.
The battle for fifth continued after the restart when they got side-by-side before the conclusion of lap 20. Gilmer cleared Deegan down the backstretch. 2016 champion Dezel West and Eric Nascimento, Jr. also went past Deegan.
Berry slowed with engine trouble from the fourth position on lap 25 and stopped at the end of the backstretch. West and Gilmer tangled on the ensuing restart with Gilmer spinning and West sent to the rear for his involvement. Several spins and incidents slowed the pace of the race for the next seven laps with three different cautions.
Deegan got past Telford for the fourth spot and Bakersfield's Kabe McClenny followed her through for fifth. A major multi-car crash on the backstretch involved both Madison and Alison Gay with Madison's car suffering heavy front end damage when she hit the back of Gilmer. On the lap 35 restart Herzog began to hound Love for the top spot.
Telford got overhauled by Edwards dropping the early race leader to seventh just before the lap 50 break. Herzog continued the intensity on Love with five laps to the break. Herzog ran out of gas to bring out a lap 46 caution and had to be pushed back to the infield. He never was able to re-fire which ended his evening. McClenny inherited second with Edwards up into third in a remarkable comeback.
Edwards ran out of gas as well as the race reached lap 50 for the break but he managed to stay on the lead lap.
The race reached lap 50 with Love leading McClenny, Deegan, Telford, and Las Vegas' Tanner Reif. Reif used the restart to get around Telford to take over fourth. Madison Gay's night ended in sparks on lap 60. Anthony Guiamano retired to the pits under that caution as well.
The final 15 laps were paced by Love while McClenny fought off a torrid charge from Hailie Deegan. Deegan gave McClenny several bumps in turn three over the final five laps but was unsuccessful. Love dashed away for a .780 victory ahead of McClenny, Deegan, Reif, and Keller.
In RPM Mortgage Pro Late Model competition, 25 cars took to the track for the 100 lap feature for the third race of 2017. Logan Zampa of Napa was credited with his first career series win after an exciting main event.
14 year-old Austin Herzog led the field to the green flag alongside Modesto's Garland Tyler. Tyler ran side-by-side on the outside of Herzog for the first two laps of the race before Herzog started to edge forward with the lead. The pair jumped out to a sizeable lead over fifth starting Zampa who immediately climbed into third.
The early battle was for fourth as Ryan Hart tried to fend off fast-time qualifier Buddy Shepherd. Shepherd got past him in turn two on lap eight. Hart fell back into a battle with Dillon Tucker but successfully held him off in heavy lapped traffic.
Herzog encountered early lapped traffic on lap nine but maintained a five car length advantage. Tyler Herzog spun for the race's first caution on lap 18. Herzog picked the outside for the restart and managed to get ahead of Tyler but Shepherd snaked into second in the process.
Tucker rolled around Hart for the fifth spot but Hart battled back at lap 25 in a very good battle. Glen Cook won a battle with Matt Erickson that thrust Erickson back to Rick Thompson. Thompson got around Erickson for eighth on lap 27.
The top four cars of Herzog, Shepherd, Tyler, and Zampa hooked up nose to tail on the outside in a way unseen so far in 2017. Shepherd dove inside Herzog in turn four and took over the lead at lap 32. The lead pack continued to run the top side of the race track although turn three was very loose for several competitors.
Lapped traffic ran side-by-side right in front of the Tucker and Hart battle within the final ten laps of the first half. Herzog used lapped traffic to climb back on top of Shepherd with five to go.
At the lap 50 break it was Shepherd leading Herzog, Tyler, Zampa, and Tucker. Hart challenged Tucker yet again for fifth coming out of the break and took over the position. Shepherd rocketed out to a ten car length lead over the trio of Herzog, Zampa, and Tyler. Hart managed to close in on the trio on lap 61. Zampa worked his way past Herzog on lap 66 in lapped traffic to nab second place.
The battling for the fifth position was nearly non-stop throughout the feature and eventually grew to a five car battle involving Hart, Tucker, Rick Thompson, Erickson, and Howard Holden.
A caution on lap 77 for Del McIntosh spinning in turn four changed the race as Glen Cook was hit hard by Tyler Herzog with Quintin Harris also getting involved. The caution also evaporated the comfortable lead that Shepherd had built up over Zampa.
Herzog had a slow restart from third that allowed Tyler to jump to his outside. Tyler swooped past him to take the position in turn two on lap 78. Tucker tried to duplicate the move outside Hart in that continuing exciting battle. Tucker completed the deal in the same corner on lap 80. The battle for third picked up as Herzog used the long green flag run to make up ground on Tyler.
Shepherd drove away for a 1.449 second win over Zampa, Tyler, Herzog, and Tucker. Hart settled for sixth ahead of a hard-charging Howard Holden in seventh.
Shepherd's victory was nullified in post-race inspection, however, with an illegal engine setback. That gave Logan Zampa his first career RPM Mortgage Pro Late Model victory in what will be a tightening points battle when the series continues on June 17th.
Points leader Mike Marley led on two different occasions en route to the 25 lap Toyota Sedan victory. Marley led the first six laps of the Toyota Sedan feature before a hungry pack of Sedans pounced on him. Jason Lawton took over the lead with Tim Curtis going by for second a few laps later. A mix up on lap 11 saw Erik Woods spin in turn two and Curtis fall out of the race with front bumper damage. After an incident between Woods and Thomas Magray, Marley made a big move on the outside to take the lead on lap 21.
Marley took the victory with Wood and Dukes crashing hard at the start finish line at the conclusion of the race. The top-five were credited as Marley, Lawton, Kyle Fortney, Woods, and Dukes.
Nine year-old Tyler Reif of Las Vegas is now a perfect two-for-two in Mini Cup competition as he won a solid 20 lap feature against the challenges of Stockton's JoJo Stearns. Bakersfield's Kale McClenny ran third ahead of Joseph Holliday and Aiden Phillips.
Madera Speedway goes dark June 3rd before continuing June 10th for the Lucas Oil Summertime Horsepower Nationals. It will feature the Lucas Oil Modifieds in the Protect the Harvest 75 MAVTV show, North State Modified Tour, Race #4 of the Super Hobby Stock Open Series 50 laps, USAC HPD Midgets, Legends of Kearney Bowl, and CSS 360 Super Mods.
For more information about Madera Racing on MAVTV please visit www.racemadera.com or www.mavtv.com. For more information about RPM Mortgage and to obtain loan information please visit www.rpmwins.com and for more information about 51FIFTY Energy Drink visit www.51fiftyenergydrink.com
Madera Racing on MAVTV begins Thursday June 1st with coverage of the season opener from March 11th for the RPM Mortgage Pro Late Model Series. The broadcast beings at 8 p.m. Eastern / 5 p.m. Pacific. Madera Speedway racing is also available on the LucasOilRacing.TV app