12-Year Old Racing Phenom' – Jesse Love
PRESS RELEASE
UPDATED: JUN 22, 2017
Youngest Driver to Win USAC HPD Western Overall Rookie of the Year 2015 & Overall Champion 2016
MENLO PARK, CA, June 22, 2017 (Newswire.com) - Race Face Brand Development's Founder and CEO, Rod Wortham, announced today that 12-year old Jesse Love has joined the Race Face Brand Development Driver Program.  "Jesse has already amassed an outstanding racing resume at such an early age, and we are excited to be an integral part of his future," states Wortham.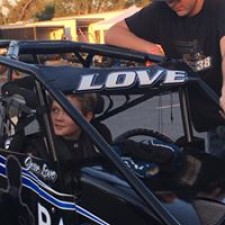 Jesse Love IV, of Menlo Park California, started racing quarter-midgets at the age of five and he hasn't looked back since.  The fast-running youngster has racked up numerous local track, regional, state, and national championships.  He is commonly known around the area tracks as, "The Hammer".
Coming off a very successful racing schedule in 2016, not only did Jesse race to championships in both the Dirt and Overall USAC HPD Midget Western States Series, but he was the youngest winning driver to do so.  The 2017 season has started off with another championship in sight with two 1st place finishes, a top five and a top ten, in just the first four dirt races. Jesse has also racked up three 2nd place finishes and one victory in the asphalt series to lead the Western USAC HPD Midget Western Overall Championship.
So, what does a 12-year old do when he is not racing USAC HPD Midgets; can you say Late Models?  In just his first year in a full-body race car, Jesse is competing in the 51 Fifty Energy Drink Jr Late Model Series from Madera Speedway in Madera CA. "For most drivers changing from a USAC Midget to a full-body race car would take some time, but not for Jesse Love," states Lorin Ranier, NASCAR Driver Development Consultant. In the first four races, he accumulated three wins in a row and one third place finish, and now leads in the point standings heading into the second-half of the season.
Jesse has already amassed an outstanding racing resume at such an early age, and we are excited to be an integral part of his future,
ROD WORTHAM, FOUNDER & CEO, RACE FACE BRAND DEVELOPMENT
About Jesse Love:
Jesse Love started his career in Quarter Midgets at the age of 5. He has since earned three USAC Championships, USAC Rookie of the Year, seven wins with INEX Silver State series in Las Vegas and the INEX Rookie of the Year.  Over the last six years, Jesse has assembled a huge fan base and he is deeply appreciative of their support.  "My Fans are amazing" Jesse has said. "They are really supportive and that makes me want to go out there and win it for them!"
Career Highlights:
•          2011 – Baylands Rookie of the Year;
•          2012 – Baylands Most Improved Driver: Junior Honda;
•          2013 – Good Times, Club Championships:  Junior Honda, Junior Stock, Lt. 160; Winter Nationals Winner: Junior Stock; California Regional Championship: Junior Stock;
•          2014 – Good Times, Club Championship: Mod; California Monza Championship: Sr.  Stock, Mod., Sr. B; Over 100+ Main Event Wins in QMA over 3 seasons;
•          2015 – USAC HPD Western Overall Champion; USAC HPD Western Overall Rookie of the Year;
•          2016 – INEX Bandolero: Rookie of the Year; INEX Bandolero Series: 8 wins; USAC HPD Western Overall Champion; USAC HPD Western Dirt Champion;
Media Contact: Rod Wortham     Email: Rod@racefacebranddevelopment.com   Ph: (727) 807-3359 x 403
Source: MyNetworkOne on behalf of Love Motorsports